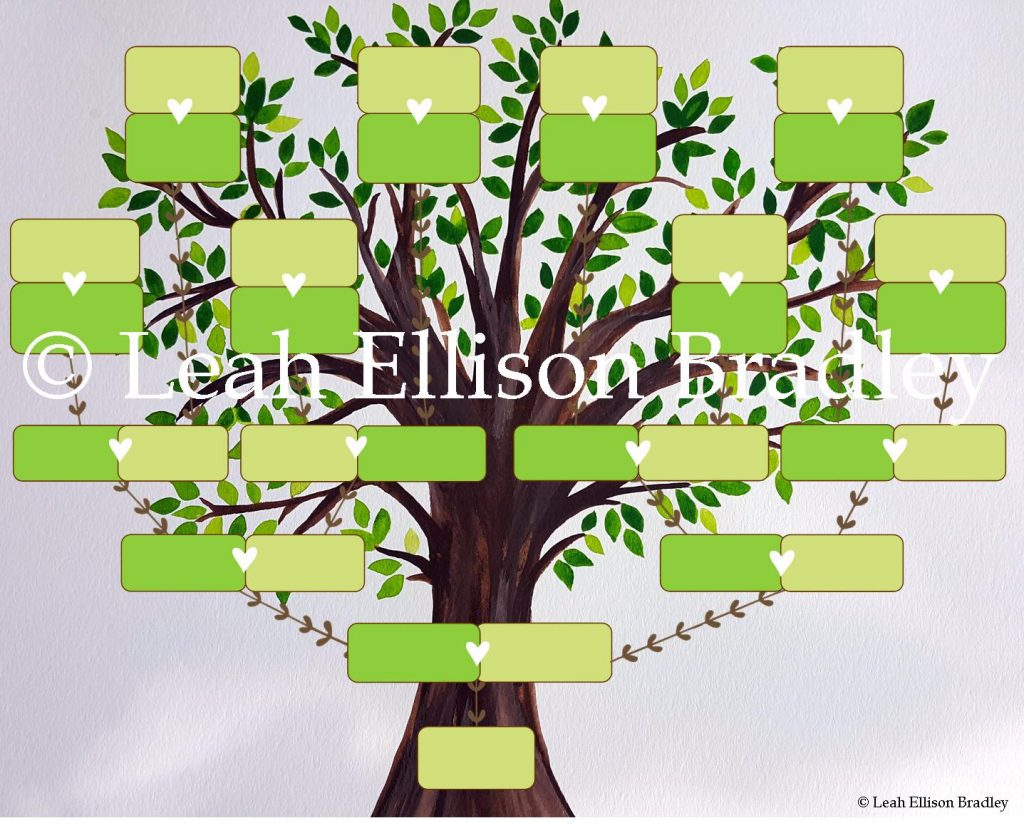 Finally, a personal, meaningful and unique gift for the person who has everything. I created this printable family tree – every inch of it – from the background (a water color painting) to the family tree template (using Microsoft Publisher), and am sharing it for your personal use.
Blank printable family tree ($5) You may purchase my template (sample above), print it, and fill in the information yourself, by hand, (or electronically, if you're savvy enough to figure out how to do that, because the pdf I provide is not editable).
Filled in family tree ($10) You provide me with the names, birth and death dates for your ancestors, and I will create a 4-generation printable family tree (like the one pictured below). You will receive a pdf that you can print at home or send to a printer (like Office Depot or Staples), as many times as you like.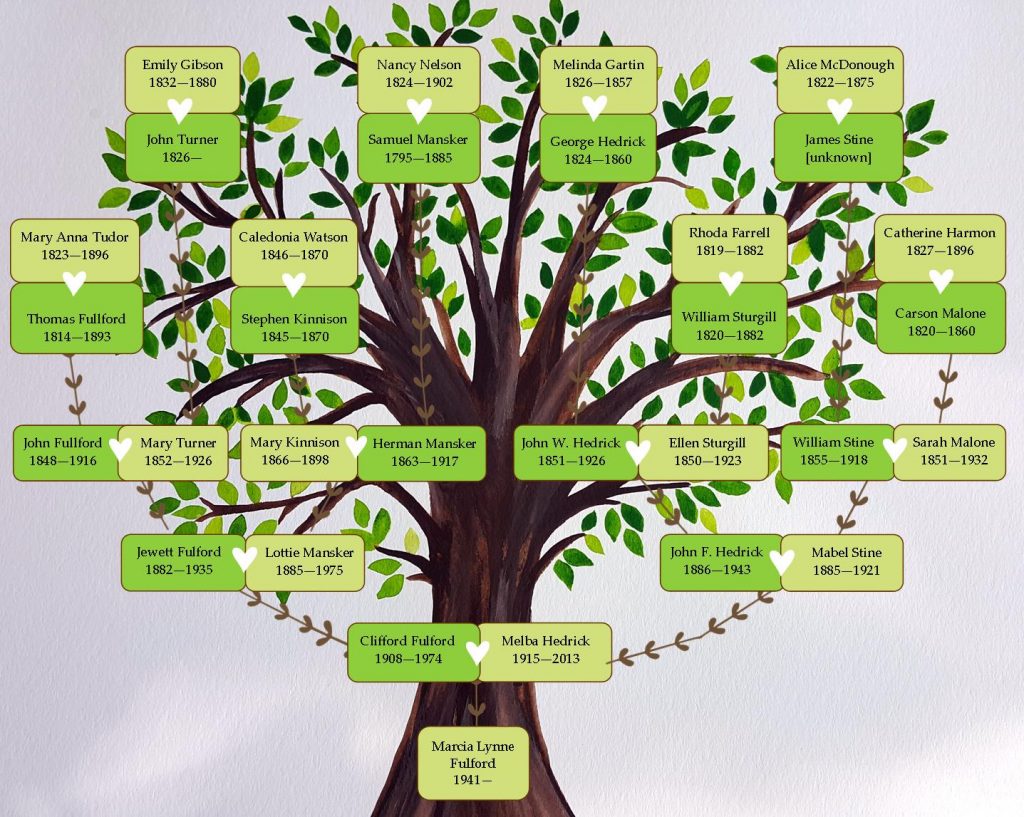 Add-ons:
+ $10 if you need the template adapted in any way (ex: a 3-generation tree, instead of 4)
+ $25 for one hour of research to help fill out your family tree. Using Ancestry.com, I can often find missing dates or names, if you have at least one or two generations worth of information to give me. If I am unable to find the information you request, I will refund you $20, retaining $5 for my time and trouble.
Frequently Asked Questions:
How large is the template/printable? 8″ x 10″, so it will print on an 8.5″ x 11″ piece of paper or card stock and easily fit any standard 8″ x 10″ frame.
I love the water color tree in the background. May I purchase just that? Yes! A printable version of just the tree is available for $5 (just like the template). If you want an actual water color painting, that is $25 + shipping (if you live outside the Louisville area). Note: each original painting will be based on the tree pictured in the template, but no two will be exactly alike.
How do I order and pay? Use the order form (below) to get started. I accept PayPal or a personal check, but will wait until the check clears before I begin work on your project.
How long does it take to get my tree? If you're ordering just the blank template or a printable water color tree, you will receive an email with the pdf within 24 hours of payment. If you're ordering a completed tree, allow 2-3 days, once your payment is received. If your project needs research, please allow up to one week, once your payment is received (it won't always take that long, but my availability for research will vary, based on the time of year and number of orders already in the queue). If you're ordering an original water color painting, please allow up to one week.
Can you create other things like this? I'd be glad to try! Scroll down and use the contact form to tell me more about what you're wanting.
You're awfully trusting. What's to keep me from buying your blank template, then sharing copies with all my friends? Nothing. Except the knowledge that I'm a single mother of two children and there's a special place in hell for people who steal from a self-employed artist who is just trying to feed her kids <grin>.
Ready to order or have a question not answered here? Use the form below: