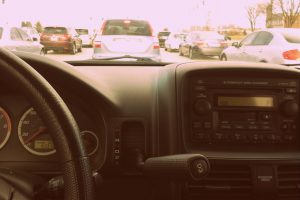 This weekend our family embarks on a road trip that will have us seeing and staying with every member of my family of origin – my parents (in southern Illinois), my younger sister (in St. Louis) and my older sister (in Kansas) – and then doing it all in reverse. It's awfully nice of them to live in a line like that.
Since I'm a big fan of coming home to a clean house and no to-do list, yesterday I  . . .
took three bags of stuff to Goodwill (lightening our load always feels good, but it feels even better when it frees up floor space where a pile of good intentions used to live),
sold a bunch of books and magazines at Half Price Books, then turned around and spent that money on two new books for our boys (but will keep them up my sleeve for that moment when even their electronics can no longer keep them from whining during our road trip),
returned a couple of DVDs to the library (if you haven't seen Maxed Out, do!),
put together a binder filled with road trip fun for each of our boys (I'll give you a peek at that project in my next post),
downloaded a bunch of podcasts, most of which I've gushed about in previous posts, plus a new one I'm looking forward to trying: The Broad Experience (on women and work),
put the finishing touches on two sermons – I'm preaching in Mt. Vernon, Illinois on the two Sundays that bookend our journey,
plus finished a gazillion loads of laundry, changed the sheets on all our beds, cleaned the bathrooms and wiped every sticky surface I could find.
Now all that's left to do is drive 1,300+ miles over the next nine days. Whee!