I am having way too much fun achieving my goal of wrapping Christmas gifts without buying anything new and/or using something disposable. Gifts of jewelry and handmade ornaments that we mailed to out-of-town relatives were wrapped in holiday hand towels I bought years ago (probably at an after-Christmas sale) but never used. I tapped my embarrassingly large stash of Christmas tins to hold gifts for coworkers and neighbors. But my favorite idea (thus far) is this.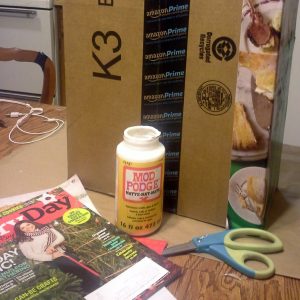 Trying to wrap a box that's too big to fit in a hand towel and a gift that's too heavy for a gift bag, was a challenge . . . at first. Then I stopped thinking about the gift and started thinking about the recipient. This person loves to read recipes – she reads recipe books and issues of Taste of Home like they're novels. My first thought was to find an apron I could wrap her gift in, but it was still too big. So, I grabbed my Mod Podge (I swear, they should sponsor this blog!) and used pages from an old issue of Rachel Ray's EveryDay to cover it.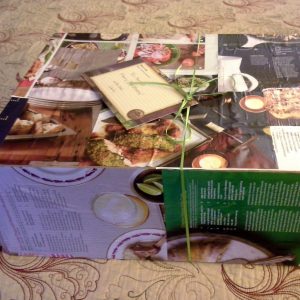 I tied some ribbon around it and used a recipe card for the gift tag and voila – no waste wrapping.
Now, how much do you want to bet she delays opening it until she's had a chance to read all the recipes? (bonus gift!)