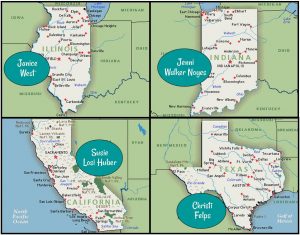 Today marks the conclusion of another contest on the MSOI Facebook page. Congratulations to the winners of the wire-wrapped rings: Janice West, Jenni Walker Noyes, Christi Santa Cruz Felps, and Susie Losi Huber.
My husband will spend the next few days making rings specifically for each winner – based on their color and size preferences – then I'll pack them up and ship them out, after reading them "Oh, the Places You'll Go!"
Ask any Maker and I think they'll agree – making is only half the fun; the other half comes from knowing what you've made is out there, somewhere, being enjoyed by someone else.
P.S. If you didn't win (this time) but would enjoy having a wire-wrapped ring, you can always order one through the Marketplace. There are three samples displayed there, but those are just the tip of the iceberg when it comes to style and color. Mick can custom make your ring based on your choice of color, style and size. Rings are $18/each and shipping averages $2.50 or less.