One of my favorite things about our family is how laid back we are about meals. I'm just not a fan of long and complicated, so our breakfasts usually come out of a box, our lunches are some variation on the same 3-5 things, and our dinners get the job done. We all agree: the sooner we get out of the kitchen, and back to whatever we were doing before we stopped to eat, the better.
Saturdays have been dubbed "a la carte night," when I place several options on our kitchen table and let the boys fill their plates with whatever appeals (aiming for something from each food group). Here's a glimpse of last night's spread: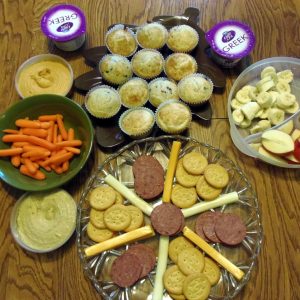 Summer sausage, yogurt, and cheese for protein – the second two doing double duty and covering dairy as well
Carrots, bananas, apples (and melon, not pictured) for fruits and vegetables
Muffins and crackers for breads and grains
Hummus covering lots of bases, depending on the kind I buy (and this kind included a healthy amount of fiber)
On second glance, I realize even our simple meals are probably simpler than most. I baked the muffins, but used a mix that only required my adding milk; everything else was cut-and-go or removed from its package, and the only green thing on the table is the bowl holding the carrots. But this is the best recipe I've found for a stress-free meal that results in clean plates and full bellies. Plus, I fed four people for under $10.
And did I mention how eager we were to get back to our Legos?