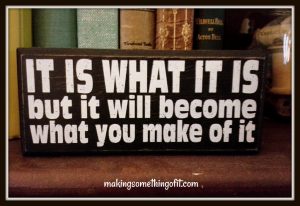 The most common question asked during my first six months as Artist in Residence was, "What's your favorite medium?"
Sometimes it's used as an ice breaker or conversation filler, when I meet someone new. Other times, the question is a gentle segue into finding out more about my background and experience. It's just a polite way of asking, "So what do you make?"
At first, I really wrestled with how to answer this (or at least how to answer it briefly). I don't have a traditional artist's background, so I'm often clueless about the proper names for the tools and techniques I use. Plus, having a "favorite" medium seems to imply I've mastered it and we all know that hasn't happened, yet.
Then, I read an article about an artist connected with the largest creative reuse center in the country – Materials for the Arts in New York – and here's how she answers that question: "I usually choose the medium based on whatever is at hand. I don't like struggling (for anything really) for the right material, for the right medium, for the right people. My approach goes something like: whomever and whatever shows up is PERFECT—and it always, always is."  Michelle Sutherland, Materials for the Arts
That. That's it. That's what I do, too! Finally, someone said what I've been struggling to articulate and now I know why. To ask a creative reuser about her favorite medium is like asking a child, "What are you going to be/do when you grow up?" The answer changes with each new experience or because it's Wednesday or because of this: 65% of children entering grade school this year will end up working in careers that don't exist yet. I've read that statistic before – most recently in an article by one of the co-founders of DIY.org, a website that encourages "fearless learning" as one way to prepare our children for these unknown career paths.
I'm convinced another way to prepare your child (or yourself) for whatever your future holds is creative reuse. When you embrace whatever is at hand you'll always have what you need, so you can do whatever it is you need to do. When you use whatever is at hand, you're celebrating abundance, instead of seeing scarcity. Best of all, when you use whatever is at hand, you run out of excuses for putting off your next project. You don't need to shop or find the money or wait for just the right anything.
I told a friend today, "If I went back to school every time I changed careers, I would always be in school!" Once I learned to let go of the fear that accompanies un- or under-employment, I truly enjoyed the challenge of upcycling myself. A theatre major makes a great event planner. A commercial copywriter writes beautiful newsletters. A skilled tour guide can train volunteers (and keep them awake!). I've also parlayed these skills into work as a professional organizer, keynote speaker, community relations, and more.
It's all about using what's at hand, my friend. Whatever is at hand.