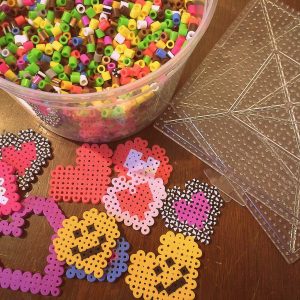 The countdown to Valentine's Day has begun. Our oldest son has aged out of the all-class-valentine projects, but our youngest has a few years left to enjoy this tradition, so we agreed to use our next snow day to knock out 23 (meaningful, but fast and free) somethings he could exchange with his classmates on the 14th.
I've been eager to find a use for all the fuse beads we had left over from our Minecraft Party last month (other than as food for our vacuum cleaner). After getting past his desire to make all our somethings match, our youngest agreed to make fuse bead hearts and attach clips, so they can be hung on backpacks or purses.
As we ironed the first set of hearts, the tag-line that will accompany each gift virtually wrote itself: "Valentine, you make my heart melt!"
I've said it before, I am grateful to have a child who enjoys crafting alongside me. Not only is it fun to spend this kind of time together, but I hope I'm teaching him to be creative and look at what he already has, rather than going to the store when he wants to give someone a gift.
Tempted to make some of your own fuse bead hearts? Here are the patterns I made: