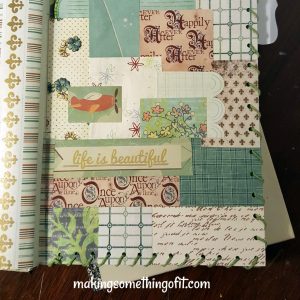 Although the in-school parts of my Artist in Residence gig are on pause over the summer, I'm still trying out new projects, perfecting others and playing around with the stash of supplies I collected last spring. Discarded books remain my favorite medium. Last week, Crafting a Green World – a site that promotes "conscious crafting and craftivism" – posted links to ideas for a dozen types of upcycled art journals and I am in creative reuse heaven as I try my hand at each one.
First up: stitching around the edge of my pages (photo, left). This finishing touch added great texture and upped the shabby chic feel of this page. Our younger son has been learning to sew (actual needle, thread, and fabric). Boy, would this have been an easier way to start him off – big holes, sturdy twine, and a rigid surface.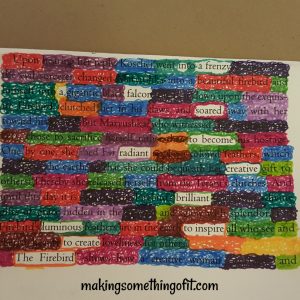 This "circle a poem" project (which I've renamed "redacted poetry") was fun, but a lot depends on the book/page you choose.
The poem pictured (left) is one my husband created. His way with words is generally more poetic than mine to begin with, but I chose a book about plant care, with words more, um, practical than poetic.
This is an art form – both textual and visual – as well as a learning tool (parts of speech, what makes a good poem). I'll definitely use this with students at some point.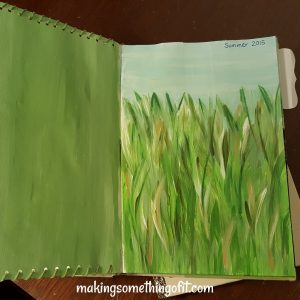 And there's something about a discarded book that gives me the permission I need to try things I'd never do on a clean canvas or bare wood. "It's just practice," my internal editor tells me. It won't be framed and I'm not wasting anything by painting this page, so I play with colors just because I love the colors. Like a smash book, this kind of art journal allows me to do what I want, without the fuss (or pressure) of a full blown project.
Prepping the pages isn't complicated, but I have found that it's nice to have two or three books going at one time, so there's always one I can work in while the others are drying.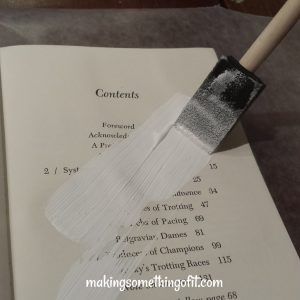 I painted a thin layer of Gesso on the page(s) I planned to use. Gesso is an acrylic surface prep, similar to what's used on an artist's canvas. If you try this, be sure to slip a sheet of wax paper (or something similar) behind the page(s) you cover in Gesso, so they don't stick together. And that's it.
I'm not sure you can tell, but the page (below) with house plants in front of the window is a black and white photo that was part of the book; I just added spots of color.
So. much. fun!