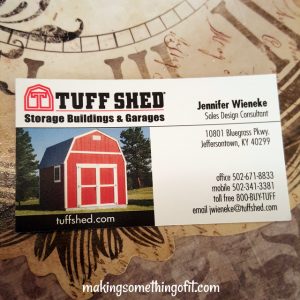 Today is the day! After countless blog posts, bemoaning my lack of space, the support of friends near and far, and a ton of serendipity, today I am getting my barn.
Note I didn't say a barn. I said my barn. The barn I envisioned. The barn that I shared as my "dream barn" when I began fundraising through GoFundMe.
In typical Leah fashion, I jumped into this project knowing just enough to be dangerous, but not really enough to do it the right way. Fortunately, the exact week I began asking others to support my barn raising, Tuff Shed hired a new design consultant, Jennifer Wieneke. Six weeks later, when I'd reached my fundraising goal, it was Jennifer who fielded my crazy cold call, asking for help making the most of the funds I'd raised. But wait, I'm getting ahead of myself.
The day I reached my fundraising goal ($2,000), I contacted three different businesses – one locally-owned, non-chain shed/barn dealer, and two nationally known chain stores – one a box store and the other Tuff Shed, a business that specializes in well made, made-to-last and made-to-order storage buildings (and on whose website I found the image of the little red barn that became the icon for this project).
Sadly, the locally-owned business never responded to me. (I really loved the idea of partnering with a mom-and-pop store.) The box store responded positively, but then stopped responding after one exchange. But, like Goldilocks, the third business I tried fit just right. It turns out Jennifer is also a creative reuser and totally understood my need for more space. She said, "I'm excited for Tuff Shed to be a part of your dream," and said they'd love to help make this happen. Even after discovering I hadn't raised enough money to build the barn of my dreams (and the barn I was promoting), Jennifer simply said, "We'll make it work."
She walked me through model buildings, got as excited as I did at the thought of how much stuff I could store and share because of my new barn, and never once tried to talk me into something more than I could afford. But she also wouldn't let me downsize my dream because I'd underestimated. I left the Tuff Shed office feeling like I had a real partner in this project.
Pictures and lots more posts follow!