I got some great presents for my birthday a couple of weeks ago, from friends and family who really know me – handmade gifts (a pillow made from flour sack towel I fell in love with), guilty pleasures (gel pens), splurges (a Netbook and a new handbag), and a gift that will make dozens of people happy over time – a vintage printer's tray, filled with trinkets and treasures, that once hung on a wall in a dear friend's childhood bedroom.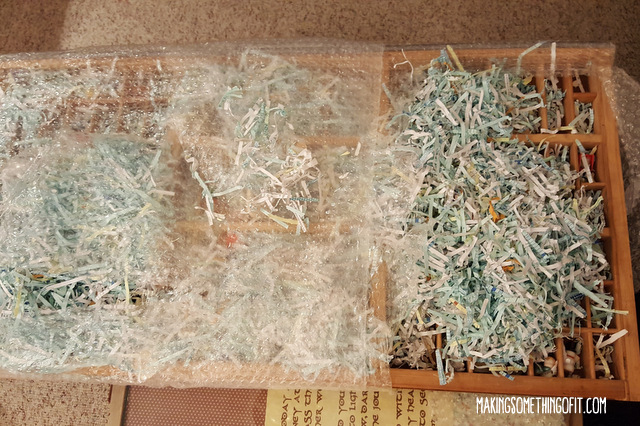 Initially, my friend thought she was just gifting me with the printer's tray, not realizing all those tiny keepsakes were nestled beneath the packing material. When we made the discovery, you'd have thought I was sorting through things from my own childhood – I was so excited to uncover each item!
My friend agreed to take a few pieces that held sentimental value, but sent the majority of the tray's contents home with me, where I proceeded to entertain (or annoy) my husband with an ooh- and aah-filled unveiling of each collectible.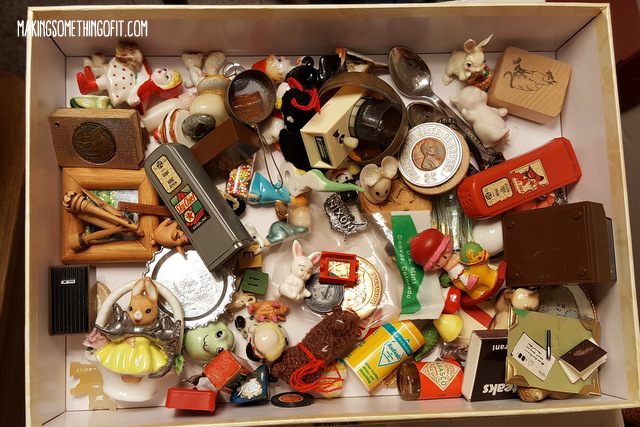 I know that my reaction will pale in comparison to what I hear from school age artists who get to incorporate one or more of these beauties into something they make in an upcycling class. I can also see myself sending a few of these things home with children I can tell have never had anything like this – not anything all their own. Yes, these treasures have long and fruitful lives ahead of them.
And just when you think I've milked this exchange for all the goodness I can find in it, there's one more gift yet to celebrate: the story I get to add to my collection and recount whenever I see someone looking at one of these pieces. When I'm talking to donors, I make a point to learn something about what they're giving, so I can tell students and visitors to the Creative Reuse Center the origin stories of what's on my shelves – who first loved these items, what they were intended for, and how they ended up here.  To think something I do or say might someday makes it's way into a story that's shared like this is why I do what I do.