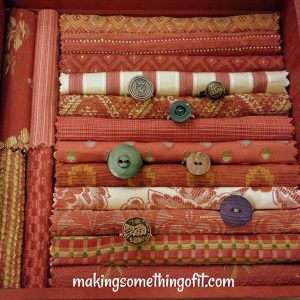 The countdown to the Louisville Mini Maker Faire is prompting even more makery than usual in the Bradley household. At this point, it's as much about the displays and set-up as it is about the makery we'll be displaying.
For example, last week, a friend shared a pic of a button ring she found on Pinterest. I asked my husband if he'd take a crack at making one. Seven rings later, we agreed we should take some of these beauties to the Maker Faire. But, where and how would we display them?
I fiddled with tree branches and dowel rods, little boxes and long, narrow bins, but none of them worked and all of them looked like more work than they'd be worth to set up and tear down. So, why reinvent the wheel or, in this case, the ring display? Why not do what stores do and tuck them neatly between cushions, snug and safe from rolling about and guaranteed to always be pretty side up!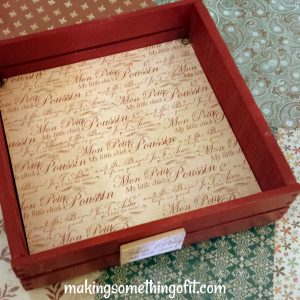 You know me well enough by now to know I wasn't going to buy a ring tray. But I was sure I could make one.
I found a shallow crate/box that I'd upcycled years ago to use as a napkin or coaster holder. The outside was already painted (bonus) and the inside was lined with cork that I'd covered in scrapbook paper, then tacked inside. I hesitated for a moment, cringing at the thought of unmaking the pretty box I'd created. So, instead of permanently altering the box, I created a false bottom for this project, using some sturdy carboard I'd rescued from an old calendar, and glued my creation onto that.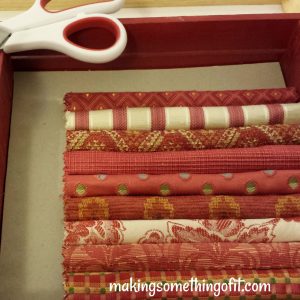 Remember all the fabric remnants I gleaned from the fabric, carpet and wallpaper samples I got at Good Garbage? I chose some compatible pieces, cut the edges with pinking shears, to discourage fraying, then rolled each one up and glued it closed before gluing it into place on the false bottom of the crate.
An easy project that was incredibly satisfying, because it used both sides of my brain – problem solved, items diverted from the landfill, and a result that's as attractive as it is useful. It doesn't get much better than this.