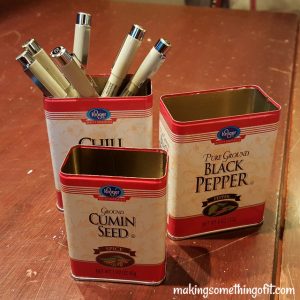 Do you save your old spice tins? For the longest time, I've coveted vintage spice tins I see in magazines and online, used to organize art supplies or as a home for tiny succulents.
It turns out what I was really coveting was their exterior, because the spice tins in my pantry will work just fine – I just need to decorate them (no offense, Kroger). Even better, these aren't rusty or musty, like so many tins you find in second-hand stores, nor do I have to pay for them (score!). Last, but not least, it's one more thing I can use when I teach classes in creative reuse. I guess I'll have to add them to my ever-growing wish list.
Last week, I created a list of items I can always use more of when I'm teaching at the Arts Center and several of my teacher friends shared it in their school newsletters. I can't wait to see the kind of obtainium this invitation yields!