Thanks for all the feedback from my last post (Oh, So Simple). I love getting a peek at what others make out of what they've been given.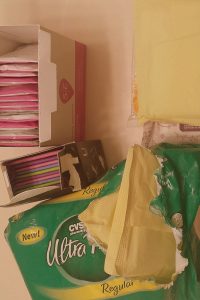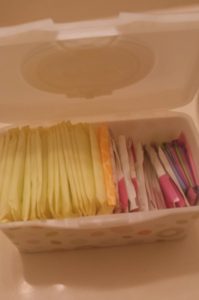 Julie shared pics of how she organizes feminine products. She said, "I have one daughter who is in diapers and I hate throwing away the containers to the wipes, especially since the designs are cute now."
These are her before (left) and after (right) pictures. If you have limited storage space in your bathroom, I'd say these are attractive enough to keep on a shelf.
Janice posted on my Facebook page her re-uses for the plastic containers from her epi-pens. "An older version is perfect for the tiny steel crochet hooks . . .and for the needles for weaving in the ends of yarn. I also use them for the stitch markers in my traveling project bag. I know that folks have used them for spices when traveling. I can only imagine what else might go in them."
And, this week, I've been marveling at my sister's ability to feed and house 10 people (my family + her family + my parents). My favorite life hack of hers: every towel bar in the bathroom has an adorable, upcycled gift tag, indicating whose towels are hung there.
How cute are these?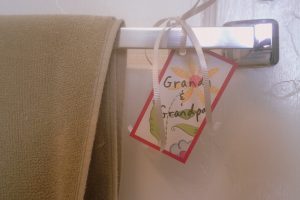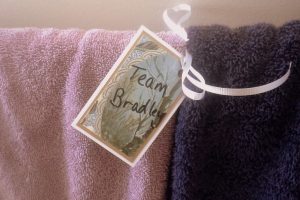 Needless to say, it's been a week of good reminders that I can get great satisfaction from the simplest of projects and brainstorming is still my favorite sport!