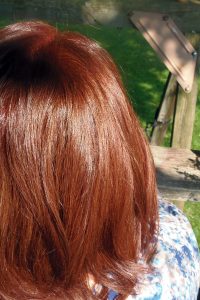 The first time I colored my hair was during college. I did it to add some oomph to a character I was portraying in a play and discovered it added some much needed oomph to me as well. I tried a couple of different shades in that first year, but all were some variation of red (chestnut, copper penny, black cherry) until I found my shade – 347 / dark auburn.
It's not vanity when I tell you from that day on my hair drew comments from friends and strangers alike – not because it made me beautiful, but because it made me more me. At one point even my mother commented that she'd starting thinking of dark auburn as my natural color. And so it went, for almost 20 years.
In my early 40s, I grew tired of maintaining my mane, especially when the woman in my mirror no longer looked like me – not the me I was used to – and I realized I no longer felt like me either. The call/career I was known for, almost as much as the color of my hair, was stripped away, slowly and painfully, over the course of a year, leaving me colorless and damaged. The body that bore two beautiful boys, and then maintained itself with caffeine and empty calories to manage the stress of family and work and life, was now limp and lifeless. I felt flat, frazzled, fried – making my life one long bad hair day. I decided all this must be happening because I was coloring my hair – denying the me I was supposed to be at this age – and perhaps it was time to embrace my 40s and begin aging gracefully.
I'd glimpsed my roots often enough and knew that women gray early in my family, so the broad swaths of gray in my crown weren't too surprising. The mousy brown of my childhood tresses had changed as well, now much duller, so, I lightened my hair – highlights and paler reds – until I'd reached a shade people started to call blonde.
In many ways this new look was easier to maintain. I'd lose track of when it was time to touch up my roots because the outgrowth of dull brown and gray was so similar to the new faded Leah I'd become. People no longer complimented my hair or asked if the color was natural. Instead, friends would say, "Oh, you changed your color" (which we all know is worse than no comment at all).
I'd like to say there was a turning point – a moment when the soundtrack of my life picked up the pace and the orchestra swelled, as the reality of what I must do finally sank in, and then . . .
But, truthfully, last week I just said "Screw it." I bought a bottle of my old hair color, slathered it on, and that was that.
The moral of this story: being the real me is work. Whether I'm maintaining my roots or my sanity; finding a career that fits my personality or jeans that fit me; receiving compliments from strangers or learning to compliment myself.
But, as my friends at L'Oreal would say, "I'm worth it."