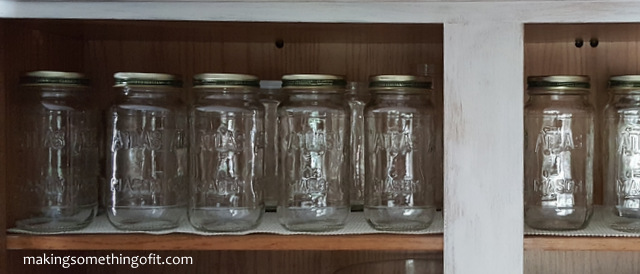 What's most important to you when buying pasta sauce? Price? Taste? Packaging? 
What if I told you, there's a product that has it all?! For the last year or more, our go-to pasta sauce has been Classico (a Kraft Heinz product). Maybe I'm just late to the band wagon, but I love everything about this sauce!
Kroger often has it on sale, and deeply discounted at least 4 times a year, sometimes as low as $1.49 a jar (.99-cents if the grocery gods are smiling on you and you have a coupon). Although my father would visibly cringe to know my family uses pasta sauce from a jar (as opposed to his homemade, takes forever to make, but tastes soooo good sauce), we love the Classico sauce. But, my favorite part is that it comes in a reusable Atlas jar
, which I've begun to store (ahem, hoard) for the gazillion and one projects I have in mind.
I used them as an easy centerpiece for my rock painting events this summer – holding paint brushes and tools. I have plans to use some for Christmas gifts, knowing the container will be as appreciated as what's inside. And I try to never let my stash get lower than six, because they're helpful to have on hand all the time, for sorting and storing all the odd little things I work with.
No, I'm not getting paid by Classico to write or share this. Just saying out loud what goes through my head, when I open my pantry or cabinet, because full of sauce or ready for something new, these jars make me smile.