Here's the follow-up I promised in my post "Making Something of … Every Day."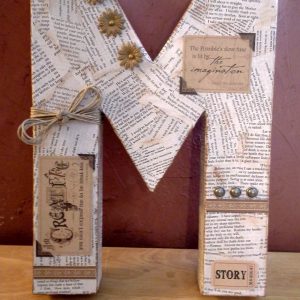 Day 1 – I received a solid lead on a new job opening, for a position that I'm well suited for (if I do say so myself), so I crafted a fabulous cover letter, attached my resume, and tossed my hat in the ring.
Day 2 – I created two more items for the Making Something of It craft booth in southern Illinois (one is pictured here)
Day 3 – I researched and applied for an Income Based Reduction for my student loans. I don't want to count my chickens, but there's a good chance for a substantial change in our monthly payment. It will be 7-10 days before I know for certain, so I'll say more if/when this hatches.
Day 4 – I called AT&T to question our most recent bill, which was higher than we anticipated, following a change to our cell phone plan. In the end, the customer service person credited our account $58 (not bad for 20 minutes of work).
Day 5 – My husband got a new job! It's part-time, with the potential for more, so we'll keep our fingers crossed he likes it and they like him.
Day 6 – I worked on a freelance editing project and got a response to a part-time job I applied for, inviting me to interview with them on March 11.
Day 7 – I gave myself the day off, with the exception of writing this post, which I'm hoping will both inspire and keep me accountable for a second week of "one thing, every day."