After weeks of organizing and purging the clutter in our home, I've reached the place where now I have to use or lose some of our ever growing stash of obtainium. I'm beginning with the most obvious projects, some of which have sat on my craft table, amid bills and unsigned school forms, for weeks.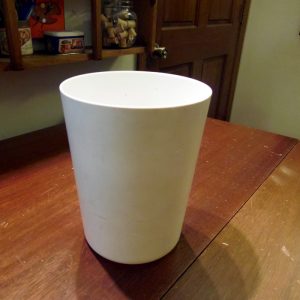 Our first contestant: plain Jane, ugly, old trash can
Purchased decades ago, this can has been tucked away in a corner of our laundry area for what seems like forever. There's nothing wrong with it. It can still can the trash with the best of them. It's just bland. Ecru. Dingy. Obviously something I chose during a more muted period in my life – probably the same era when I had a set of color-coordinated fuzzy covers for my toilet.
So, out came the Mod Podge and an old U.S. road atlas and voila!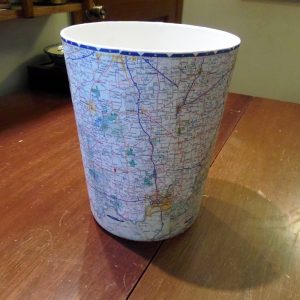 In the grand scheme of things, it's not that big a deal. But I look at it like the difference between a made and an unmade bed – when it's made, my wadded up jammies and the tufts of dog hair and the half eaten banana our youngest left on my dresser don't bother me nearly as much as they usually do.
I'm hoping the same will be true when I see this can in our boys' bedroom, where wadded up jammies on the floor would be a major improvement.