Our younger son was born on Epiphany (January 6) and while having a birthday so close to Christmas has its drawbacks, he definitely benefits from the extra dose of mommy guilt it inspires. Last year, we splurged and took him and several of his friends to the Louisville Science Center – plenty of activities aimed at energetic minds and bodies, and much more reasonably priced than you might imagine. This year, however, we aimed for something that could happen in the comfort of our own home.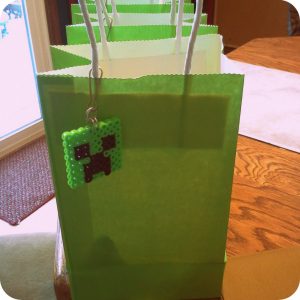 Our soon-to-be-nine-year-old chose Minecraft as his party theme. Despite the fact that there are no "official" Minecraft party supplies, I found this one of the easiest (and most fun) parties to plan. That's probably because my husband did the hard(est) part – all the advance-work and tech support during the party, enabling five boys to all play on one server and see their antics on the living room television. I just provided the atmosphere, after perusing Pinterest for the best and easiest ideas, already road-tested by countless other parents.
The party itself was simple. The boys played Minecraft, had a snack, played more Minecraft, paused for a game and brief activity, played more Minecraft, ate pizza, and then played Minecraft until everyone went home. A good time was had by all. The game was nothing more than a version of "Who am I?"  I placed a sticker with a picture of a Minecraft character on each boy's back and he had to figure out who he was by letting the other boys give him clues.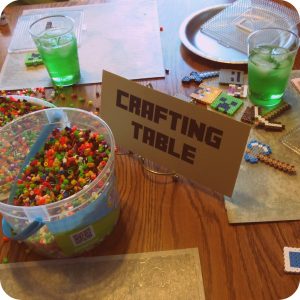 The craft was just a tub of fuse beads and a chance for each guest to make his own Minecraft pendant. I pre-made a creeper face for each party favor bag (see pic above), in case someone wasn't feeling crafty or couldn't tear himself away from Minecraft long enough to complete something. Of course, all creations were made at the Crafting Table. (Thank you, Minecraft font, for making my kitchen table so much cooler than usual.)
Before you go calling Martha Stewart to let her know she has some wicked competition in the party-planning business, let me reveal the biggest corner I cut: nearly every snack I served came straight from a box. I'm so proud of myself for not sweating the small stuff. I smiled the entire time I opened each individually wrapped Rice Krispie treat. The brownies were the only thing I "made" and they were uber-easy, thanks to the Wilton brownie squares baking mold.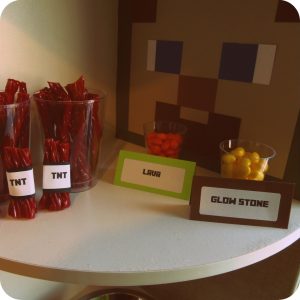 Prepping the food and decorations was especially fun because it was something I could do with the birthday boy the day before the party, when his patience was wearing thin and his excitement was quickly morphing into whining/restlessness. It also gave him a chance to talk with me about one of his favorite subjects (something I don't always pause to hear about as often as I should). Ultimately, that's the gift I want to give him each year – a birthday that's memorable because of what we do together.
The fact that this year's celebration was a success is just icing on the cake.
Note: here's a link to my Minecraft Party Ideas board on Pinterest. Below are a couple of patterns for the fuse bead creations we made.