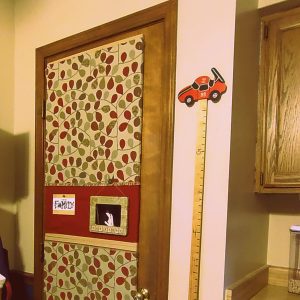 Yeah, yeah, I know the old saying, "Measure twice, cut once." But that presupposes I plan ahead on projects, instead of my usual modus operandi – also known as a whim. So, here's what happened.
I stopped by Jo-Ann Fabric and Craft Store, with an hour to kill and a gift card to spend (thank you, Beth!). I didn't go in looking for fabric, but no one ever comes out of a craft store with only what they intended to buy (at least no one I know), plus all fabric was on sale for 50% off and the fabric remnants were another 50% off of that. They were practically paying me to take something out of the store, so I decided to oblige them and looked for something to cover the bulletin board on the door of our pantry. I settled on an upholstery remnant that looked strong enough to weather a couple years of kid art and school papers. The measurements of the remnant seemed large enough (to my spatially-challenged brain); certainly they'd be enough to cover a bulletin board. So off I went.
When I got home and unfurled the fabric, I discovered that neither the length nor the width was enough to do the job. Long story short(er), I ended up creating a sort of cummerbund out of another scrap of fabric (which, coincidentally, was also something I purchased only to discover it was not the right size for what I had in mind; imagine that). In the end, I think I like it better with the block of color in the middle (six feet of leaves is an awful lot of leaves, no matter how pretty they are).
So, yay for serendipitous gaffs! And yay for another opportunity to work my Maker muscles. I know I preach about this often, but it's worth repeating: the more I recycle and upcycle and strive to see potential in everything around me, the more flexible I am in all aspects of my life. A change in plans, a lack of this or that, even a missed opportunity – they're all just part of the process now, instead of threats or impediments to whatever I'm doing. (And, honestly, who doesn't love a cummerbund?)