I've always thought I'd like to run an antique shop (and by "antique" I mean secondhand, previously loved, vintage, not actual antiques). In recent years, I've envisioned broadening that little shop to include a work space, where my husband and I could upcycle or repurpose odds and ends we found in our hunt for new inventory. Then, wouldn't it be fun to host a gathering, once each week, when like-minded folk could bring their obtainium to the shop for a collective brainstorming of what it could/would/should become? I already have the promotional materials half composed in my head – I'd call these gatherings "Maker Mondays."
Until such a shop and this kind of gathering really exist, how about we do the next best thing and gather virtually, here? If you're willing to send a photo of something you have, but don't know quite what to do with, I'll share it with our little community and we can think out loud, until we stumble onto an idea you like. Bring your own beverage and know that comfy pants are encouraged.
I'll provide the fodder for our first conversation – a query I've wanted to crowd source for a long time.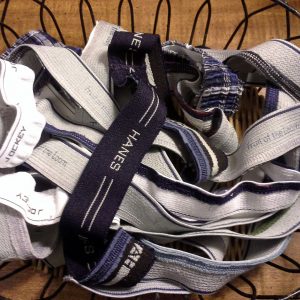 I have a number of elastic waistbands, gleaned from clothing that's been turned into something else. The elastic is still in great shape, so I couldn't bear to throw it away, but I'm at a loss as to what I can do with it. Any ideas?
Please add your thoughts to the comments section below. Then, if you have a picture of something we can talk about next week, send it to makingsomethingof it@yahoo.com.
Happy Maker Monday!