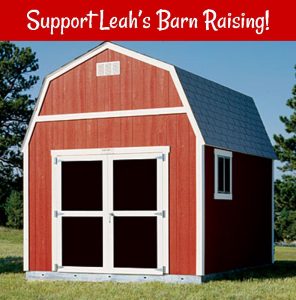 Friday afternoon, I received an email with the following subject line: Christy Redick contributed $1,000.00 to "Leah's Barn Raising"
My husband was sitting across the room when I read this and saw me freak out a little (okay, a lot). Within minutes my enthusiasm gave way to suspicion and I convinced myself I'd been hacked.
The gift is too large and takes me just $70 shy of my goal. And who is Christy Redick? I don't know her, so she couldn't know me. She probably meant to donate to someone else's GoFundMe campaign and this is some kind of error.
I sent a quick thank you note (just in case the gift was real) then, very slowly, re-read the donor's post on my GoFundMe page:
"Leah, I came across your campaign, and I love your dedication to keeping materials out of landfills! I'm a huge believer in re-use, and I'm so inspired by the work you've done. Even more inspiring is the impact you've had on students who need these supplies. Thank you for what you do, and I'll be following your blog! – Christy"
At this point, my husband starts peppering me with questions: What's the catch? Do you think it's real? Does it say anything else? What's her name again?
All I could manage to get out was, "Give me five minutes to let this sink in." Then I wrote Christy another note – this one longer, more thoughtful, but still tinged with "Why me?"
Her gracious response came quickly, filled in the blanks and confirmed that this was, indeed, a legitimate donation. I learned Christy is a kindred spirit, who also dreams of opening a crafts center for secondhand craft supplies. She believes in recycling, but recognizes that reducing consumption and reusing supplies should come first, whenever possible. Best of all, while my campaign inspired her, she was moved by the amount of support I'd already received from my community (and so was I).
During the time it took me to write this post, my GoFundMe campaign received two more donations and I've reached my goal of $2,000. So, yeah, it looks like I'm building a barn. Thank you!