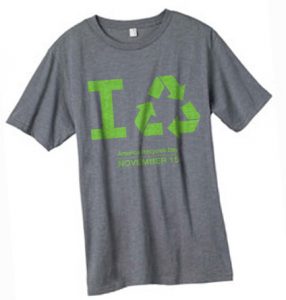 It's Sunday night, maybe a half hour before our boys' bedtime, and our oldest utters the phrase every parent dreads: "Mom, I need to take some stuff to school tomorrow."
Apparently he and his science partner are building an insulated cup from scratch and he volunteered to bring the Duck tape, scissors, and denim. Wait. Denim? How many parents have a stash of denim they're willing to part with at a moment's notice? Lucky for him, I'm one who does, but my heart went out to the other parents getting this news just 12 hours before the denim was due.
Then again, now that 87% of Americans have access to curbside or drop off recycling programs, maybe I'm not the only one with access to oddities needed at the last minute.
Four years after our youngest son's kindergarten teacher asked us to keep toilet paper rolls for a special project, I still have a spot in the house where I stash those. Our family is collecting plastic lids and caps for a bench our middle school is buying, once they have 400 pounds of lids and $200 dollars. And my well-intentioned desire to see the possibilities in everything means it's easier for me to name what I throw out than to list everything else I keep.
That said, I am still learning new and more ways to repurpose or recycle what I want to be rid of. So, I thought I'd share the ones that have made me do a double-take lately.
Bras – Did you know you can recycle your bra?! Bra Recyclers is an organization with a mission to "reduce the amount of textiles that unnecessarily go to landfills by recycling and reusing textiles to re-shape our environment and the lives of people around the world." October is both Breast Cancer and Bra Awareness Month. Take a moment to learn how recycling your bra can support breast cancer survivors, women transitioning from domestic violence situations, and more.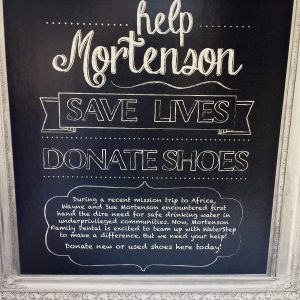 Shoes – Sitting in the waiting room of our dentist's office, I noticed a collection box for shoe donations. This was our first visit to Mortenson Family Dental – a local chain with 50 locations in the Louisville area – and I didn't anticipate learning something so personal about the owners of this business. A little web surfing led me to a touching bio about Wayne and Sue Mortenson and more information about the causes they support, including WaterStep, a Louisville-based nonprofit that provides safe water to communities in developing countries.
If you live outside the Louisville area, there are plenty of other organizations that would love to repurpose your gently used footwear. My go-to source for recycling info (Recyclebank.com) pointed me to Soles4Souls, a nonprofit fighting the impact and perpetuation of poverty by providing shoes and clothing, both as direct donations to those in need and as products for micro enterprise programs, creating jobs in poor and disadvantaged communities. While you're at it, consider joining other supporters of Soles4Souls and go barefoot on October 10 to raise awareness for people who live without adequate footwear.
Clothing – The average American throws away 70 pounds of clothing and fabric each year. Even the most conscientious of us – those who donate what we can and create rags out of what we can't – still fall short probably 25% of the time. Hearts.com – a website dedicated to awareness about the products we buy and the affect they have on people and the planet – has a great article about composting your clothing, which textiles can and can't be composted, and how to do it.
Everything else – If you have a school-age child and live in a large-ish city, you've probably heard of a Drink Pouch Brigade or Lunch Kit Brigade – a program where children recycle their pouches (think Capri Sun) or lunch kits (think Lunchables) in special receptacles in the school lunch room. Those items are then sent to Terracycle to be recycled or repurposed (like making the darling tote pictured). But you don't have to eat lunch in a school cafeteria to participate. Terracycle has a brigade for just about everything! Your office, your church, your nonprofit organization – any place that serves more than a handful of folks – could host a brigade.
You know what's even better? Terracycle offers Zero Waste boxes where you can put anything and it will be recycled. It sounds too good to be true, but it's true. The only catch, at this point, is the cost. But the simple fact that zero waste is achievable is something to celebrate! And if our family didn't produce so much waste each month, we might be able to live off of one box for a month or more, the cost of which could be comparable to our current trash service.
We live in amazing times, my friend. We can perform acts of generosity by just throwing things away. How much easier can it get?!