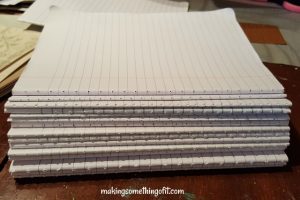 Have you ever heard someone refer to a house as having "good bones" – a situation where the house's exterior might be iffy, but is built well enough that it's worth the investment of your time or money or both?
This summer, I'm learning to appreciate the good bones inside some otherwise cringe-worthy composition notebooks (rescued during this year's gleaning).
The challenge with upcycling composition notebooks is their construction. The pages are stitched so that tearing out used pages in the front detaches their partner pages in the back and weakens the stitching of the entire notebook. But, if a student only used the first quarter of the book, there's still a healthy center section – good guts – that's worth salvaging.
So, this week I tried my hand at rebuilding the notebooks, following the pre-drilled holes and simply stitching a new cover around the guts. I pieced together wall covering samples (from ZeroLandfill) to create the covers and tried both baker's twine and embroidery floss (donated to me) for the binding. The floss was definitely easier to get through the layers of paper and wall covering (and I used triple strands for strength), but I still needed a thimble to push my needle through the spine.
The project is labor-intensive enough that these won't be donated back to schools, the way I do with ones that only need the cover refurbished, but I'll definitely gift them to the teachers and school staff I work with. I just need to create some sort of sticker or label I can place inside, explaining where all the components come from and how they were assembled, because these notebooks are going to be great tools for promoting the benefits of gleaning and upcycling!
This slideshow requires JavaScript.