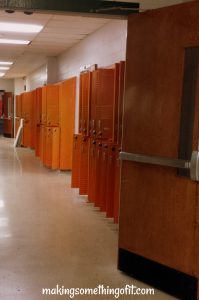 When I began teaching and talking about upcycling in our county's schools, I heard tales of how many unused supplies get thrown out at the end of every school year. I knew my own children brought home notebooks that appeared untouched, plus, markers and glue sticks and other supplies that had plenty of life left in them. But I couldn't fathom anyone leaving these things behind, let alone someone throwing them away!
Still, I heard stories of locker contents being dumped in hallways and custodians sweeping up the good with the bad, so I contacted our four middle schools in May and asked if I might glean any leftover supplies from the classrooms or lockers. I knew no one wanted to throw any of these treasures away, but collecting them takes time and hands and a plan and a place to store what's collected and a plan for redistributing it all.
So, I made it clear that my request to come and glean was also an offer of assistance. I wouldn't just take the good, I'd also toss the bad and free the custodian from the tedious task of checking every locker (more than 1,000 at our older son's school). I enlisted the help of some kindred spirits – three middle school girls who, like me, saw this as an adventure (oh, the things we would find!) and could earn a few service hours in the process.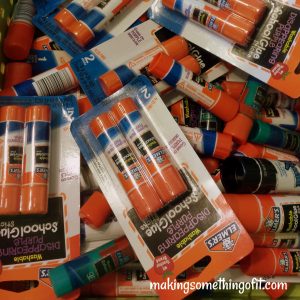 What we found was an upcycler's heaven and a parent's hell – so many abandoned supplies! Black suede boots (who leaves those behind?). Dozens of jackets (the brands kids beg for). Countless locker shelves, magnetic mirrors and dry erase boards, plus every kind of magnetic locker caddy imaginable.
One locker held two plastic bags filled with unopened supplies. I could picture the parent dutifully shopping for every item on the teacher's list, then handing the bags to their child on the first day of school, only to have that bag shoved in a locker and ignored for the next nine months.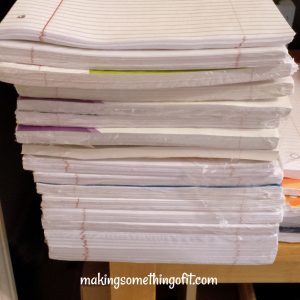 Look at this pile: that's 4,500 sheets of loose leaf notebook paper still in its plastic wrapping.
This doesn't count the dozens of composition notebooks, with only one or two pages ever used – notebooks that just need some clever camouflage to cover the previous owner's name and they're good as new. Then there's the paper I'll glean from the 3-ring binders, plastic folders and partially used spiral notebooks – a lot of which can be used as-is and the rest cut up and made into notepads.
The second school I tackled sans volunteers because the students did all the gleaning; I just had to come and pick up what they were donating. At this school, one teacher's passion for reuse and recycling impacted the entire end-of-year clean out process. Students emptied their lockers under the watchful eyes of their teachers and were only given a small waste can for true trash – everything else was to be recycled, donated to my creative reuse project or taken home.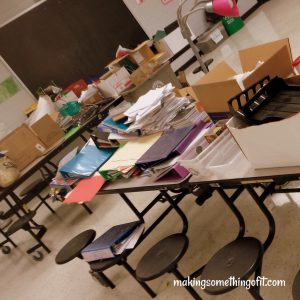 When I arrived, the Monday after the school year ended, there were at least seven long cafeteria tables covered in cardboard boxes, overflowing with supplies they hoped I'd reuse in some way. I filled my mom-van twice, then cried, "Uncle!" and made suggestions on where/how they could find homes for the remnants – mostly 3-ring binders* and some office supplies.
Now comes the fun part (no, I mean it!): sorting through everything and getting it ready to donate back to the schools this fall. Each of the schools that let me glean will get a box of fresh/upcycled supplies they can give to students who can't afford them. Other materials will be given to our county's preschool, where teachers work with the most vulnerable children to provide a strong start to their education. Anything left after all of that will be woven into more projects for the "Art of Upcycling" classes I'm teaching this fall.
In case it isn't obvious, my little one-woman operation is pleasantly overwhelmed by what I gleaned from just two schools. Imagine what could be made with materials from all four middle schools, all three high schools and all nine elementary schools? Just give me a year or two and you won't have to imagine!
*NakedBinder.com has suggestions on where to donate your unwanted binders, plus instructions on how to break down and recycle the components.