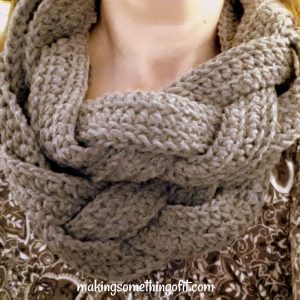 Just after I wrote a post about unachievable Pinterest projects, I tried my hand at crocheting an infinity scarf that kept cropping up in my Pinterest feed. Allow me to eat (or at least retract) some of my words. This project was totally doable. Even better, I think it's easy to tailor this to your style and skill level, as long as you're okay with a little trial and error (but, truly, very little).
I had enough yarn to make my sample using one color of yarn, but what attracted me to this project was the idea that I could use remnants of complementary colors – one for each of the three strips braided together to make this scarf.
I played around with various lengths and stitches, then settled on this pattern:
Chain 200. Half double crochet (hdc) in third chain from hook and in all chain spaces after, to the end of the chain. Chain 2, turn and hdc in second hdc and all remaining hdc, to end of row. Repeat to desired width. (note: I used a size H crochet hook and made 4 rows of hdc)
Make three of these strips and single crochet them together, across the top, so they become one piece. This step isn't essential, but I found it makes them much easier to braid.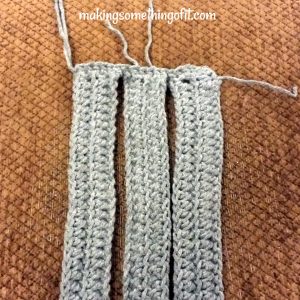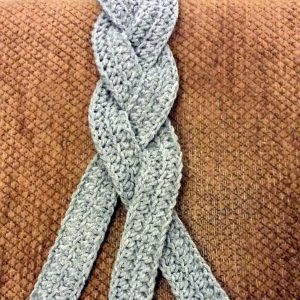 Next, braid the strips loosely and evenly.
When you're done, use the loose ends of your yarn to tie the two ends of your one long braid together, then weave in the ends. Single crochet across the top to join them securely.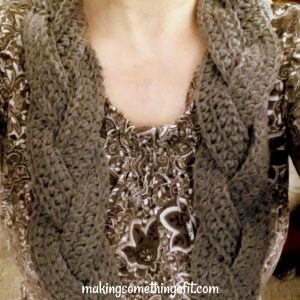 When this hangs around my neck in a single layer, it hangs all the way to my belt line  – not really attractive on a short person, but a think someone tall could pull it off. I'm also considering making a shorter version to wear as a single braid. Looped twice around my neck it dresses up some of my plain Jane tops very nicely and does an amazing job of keeping me warm (I had no idea how much heat I lost at my neck).
After wearing it a few times, you'll discover you need to lay it out and refresh the braid a bit. No big deal – it's as easy to stretch it back into shape as it was to stretch it out of shape.
Granted, nothing earth-shattering, but a nice way to use up extra yarn and an easy project for an evening when you want something to do that doesn't involve a dozen tools or a work space larger than your lap.
Enjoy!