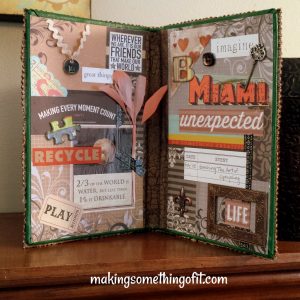 Yes, I'm still on my Cornell kick. Last week, I explored ways I could adapt his style to the materials I have on hand (or what I think I can get more of) for some of the school projects I'm teaching in the next few months.
I have several ancient (more than 40 years old), gutted, library books and decided they'd make an interesting base for a Cornell-inspired creation. What began as a collection of objects and images that represent me morphed into an array of what inspires me. The 8″ x 5″ book cover couldn't begin to contain all that I wanted to put in it, turning this project into an exercise in self exploration, as I weighed the relevance of each item before adding it.
I'm thinking the hollowed book may be an even better base for this project than a box. The gutter/spine allows me to include small objects, without worrying they'll be smashed when/if the cover is closed. At the same time, I can close the cover to the protect the contents or let it stand, propped open, for display.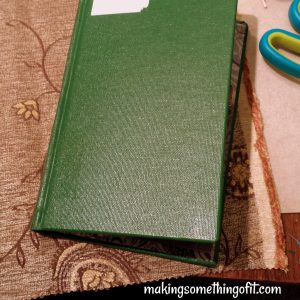 Some book covers would look great left as-is, but I'll admit I wasn't fond of the bright green on this one or the impossible-to-remove library labels, so I hot-glued some fabric on it. Yes, I was lazy and just used pinking shears to "finish" the edges, but I like the ragged frame around the outside of the book (so, yay for being lazy!)
I used patterned Duck tape to strengthen (and cover) the gutter; everything else was Mod Podged or hot-glued inside. The words came from old greeting cards, books, gift bags and scrapbooking leftovers, and the objects were odds and ends I've collected over the years (a la Mr. Cornell).
I'm hoping I can find enough book covers to use with students at a couple of the schools where I'm working this spring. Surely libraries and used book stores would love to see damaged or otherwise unusable books get a second life. I just have to dig out from the 12+ inches of snow that fell last night before I can begin my hunt!