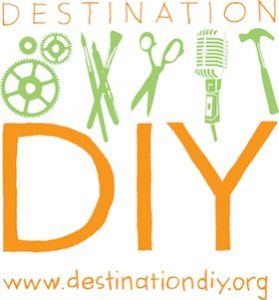 With all the driving I've done in the last two months, I could have completed multiple crocheting projects, if I'd been riding in the passenger seat. That's my preferred way of traveling, of course – multitasking: getting somewhere, enjoying uninterrupted conversation with my other half, and working on something creative. But, since I've been a solo traveler or a single parent on all of my trips, I've had to keep my hands at 10 and 2, and my mind occupied in other ways.
My go-to copilot on most car rides over half an hour is the Manic Mommies podcast. But one episode only gets me a third of my way through my trip, so more travel meant I needed more podcasts.  I started searching keywords from my own blog (after all, no one knows me better) and discovered Destination DIY, an independently produced public radio show out of Portland, Oregon. This gem of a podcast is so much more than a podcast. It's a conversation partner.
The podcast's host/creator/producer, Julie Sabatier, takes Do-It-Yourself to a macro level, reminding listeners that the DIY approach has been around much longer than the acronym. The show is less instructional and more inspirational, profiling people and projects that model an innovative and creative approach to life. For example, there's an episode about DIY Rituals: "People observe all kinds of rituals to mark beginnings and endings. Sometimes this means following an established tradition, but sometimes you just have to make it up on your own. This hour includes stories about do-it-yourself rituals large and small, including an adoption ceremony, creative traditions centered around breakfast cereal and bedtime stories as well as a window into what it takes to conduct a home funeral."
A good podcast will entertain you while you're listening to it. A great podcast will engage your brain, like a conversation. Even if DIY isn't part of any descriptor you'd use for yourself or your approach to life, I bet you'd find Destination DIY enjoyable. But, if you're like me, and you are fed by time spent with kindred spirits – in this case, folks who prioritize creating over consuming – then get ready to fall in love!