There's little that intimidates me more than a blank page. Whether I'm writing, drawing, or just trying to make a list of meals for the coming week, the hardest part is always the beginning. Fortunately, I'm not alone, and we live in an era with life hacks for just about every stumbling block.
Can't think of what to make for dinner? There are apps and websites that let you plug in the ingredients you have on hand, and they'll suggest things you can make. Can't find anything to watch on TV? Most services (Hulu, TiVo, Netflix, etc.) will suggest television shows and movies based on what you've already watched and liked. In the mood to be creative, but not sure where to start? I'm convinced that's half of what's made the adult coloring books so popular – the ability to be creative, with little more to decide than picture preference and color palette.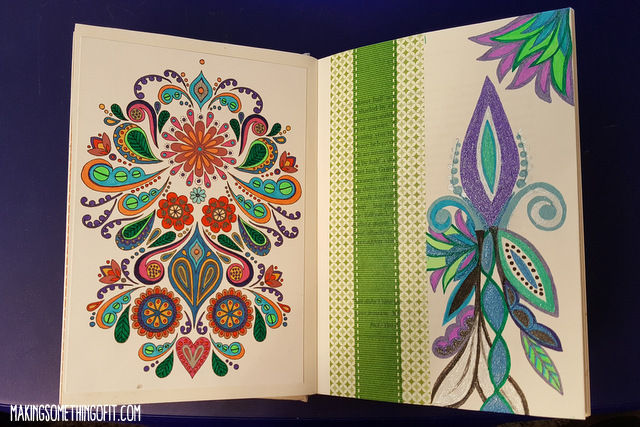 So, in my newest upcycled sketchbook/journal, I'm adding coloring pages and examples of techniques I want to try next to every blank page. Some nights, I just end up coloring someone else's artwork, but eventually some part of the companion piece inspires a bit of free drawing or doodling, and I have the pleasure of creating something without the pressure of starting from scratch.
It's not unlike a parent's encouragement to choose your friends wisely and surround yourself with people you aspire to be like. What I love about someone else's artwork always ends up spilling over into whatever I create, so why try and pretend there's anything new under the sun? I'd rather let that inspiration stare back at me from the facing page as I practice my art.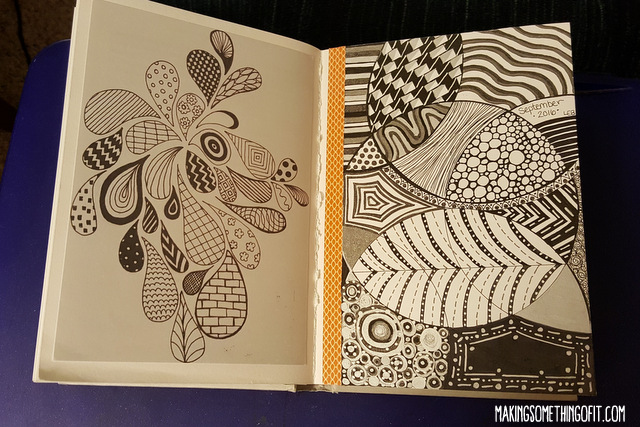 My book is becoming a sort of Pinterest board, filled with gorgeous images I've found elsewhere, while leaving space for me to create my own.
I know artists and designers have always used this kind of inspiration, in one form or another, but I'm a late bloomer. After a lifetime of keeping scrapbooks, I'm learning to use a sketchbook and my metaphorical blank page (me) still needs companion pieces to suggest what I might make of myself.
I suppose, in the end, we're all either a blank page or a companion piece – influencing others or being influenced by them – and all that's left for us to decide is which one we'll be today.