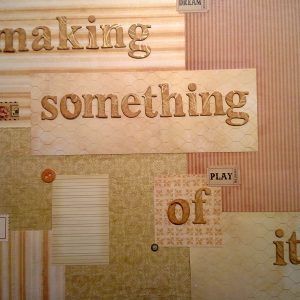 A few weeks ago, driving a route I don't normally drive, on a day I'm not typically out and about, I saw a sign announcing "space still available at our craft fair."
Finding a place to sell what we make has been on my husband's and my do list for what feels like forever. We've always crafted and created things for our own pleasure, but also wondered if what we enjoy might also be what we "do". How amazing would it be to respond to the query, "What do you do?" with "Oh, my husband and I are makers." In any other situation, I'd be the first to say, "We're already makers!" But, deep down, it's hard to shake the idea that a job isn't "real" until you're paid for it.
On one level, our desire to be at this craft fair is purely practical. Our muse has been incredibly generous this year, inspiring more creations than we have room to keep. On another level, it's therapeutic – to meet other makers, spend some time in one of our favorite settings, and get feedback on what we've made (either positive when it sells or instructive when it doesn't). It's also experimental – finally exploring the fantasy I think both of us harbor, that maybe, just maybe, we could earn part of our income this way.
So, if you're in the Louisville area on November 23, come to the Waggener High School Art & Craft Fair!