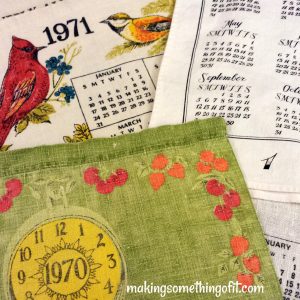 Raise your hand if you grew up with a cloth calendar hanging in your kitchen.
They were usually made out of linen or cotton (like flour sack towels) and intended to be taken down and used as a kitchen towel when the year was over. However a lot of people stashed them away, considering them keepsakes instead.
Last week, my mother-in-law gifted me with more than 30 years worth of cloth calendars, used and collected by her mother and grandmother (my husband's great grandmother).
These beauties had been passed from one storage space to another, since hanging in these women's kitchens. When they were passed to my mother-in-law, she asked if I'd like them, adding, "I bet you'll find a use for them." She could not have given me a better gift.
I spent several evenings sorting them, organizing them by year, thinking about all that they'd seen. I washed them and pressed each one, but couldn't bring myself to put them away. The weight of the family history they carry with them and the honor of being their keeper gnawed at me. I started thinking about them like fancy soaps you see in some bathrooms – on display, but never to be used.
Our youngest son got his middle name from this branch of our family tree – Scott – and, suddenly, here's this tangible connection to his great great grandmother Scott. The last thing I wanted to do was put those towels away.
I sorted through them again and found the year I was born, the year my husband graduated high school, one with the names and drawings of all the wildflowers in Michigan (my husband's home state), and others with special meaning, and added them to the rotation of kitchen towels we use on a daily basis. I'll admit to flinching a little the first time I wiped my wet hands on one. Even after two washings, the 30 year old linen was still stiff from lack of use. That just inspired me to use it more and more, knowing someday soon it will feel as welcoming as it looks.
I did end up putting some of the towels away. Oh, I have plans for them, but that's another post.
By the way, you can still buy cloth calendars. I think that would be a sweet tradition to continue. I wonder if our boys (or their children or grandchildren) would look back on any towels I pass down with the same sense of nostalgia?