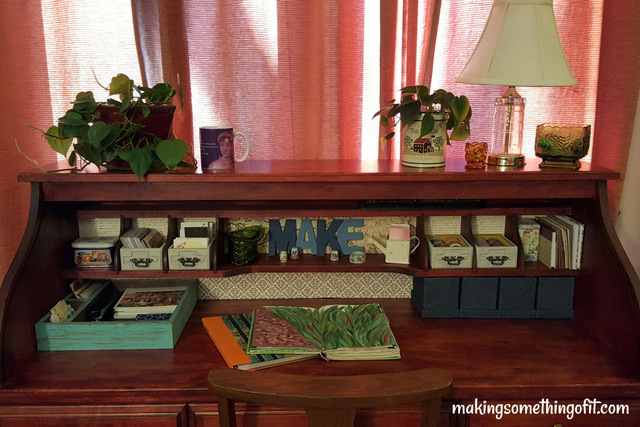 When I worked as a professional organizer, my focus was on helping clients look at the big picture. When you're deciding what to keep and what to toss, it's easy to get sidetracked by certain items or an entire room and not look at your life/space as a whole – you know, the old "can't see the forest for the trees" adage. But as a creative reuse artist, my focus is all about the "trees."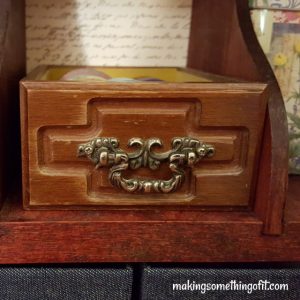 This weekend, I rescued several small drawers from a jewelry box that sat on my mother's dresser for years. She passed it along to me, when she upgraded to a jewelry armoire a few years ago. Of course, the box itself has potential, if only because it's made of real wood, so I was happy to add it to my collection of things I'll upcycle "someday." The drawers, however, were the real find.
Look how perfectly they fit in the nooks of my desk. Granted, the nooks of a roll top desk are designed to be built-in organizers, but when everything is contained (in a drawer or box), I can pull out the lot of it, find what I need, and put it all back without much muss or fuss.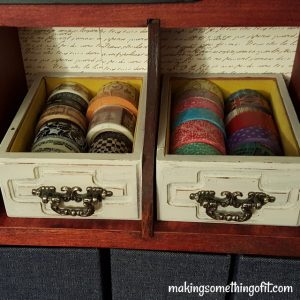 Plus, the nostalgia factor is priceless – adding something of my mother's to a space I use everyday. I love that!
I removed the hardware and gave it a polish, then gave each drawer a coat of chalk paint (color: primitive), followed by a good buffing so the original wood peeks through. Now they hold paper tape, tiny envelopes, stamps and stickers, note cards – all the things easily lost when they're kept in a forest, er, drawer, but which I'm inspired to use when they're kept in plain view.