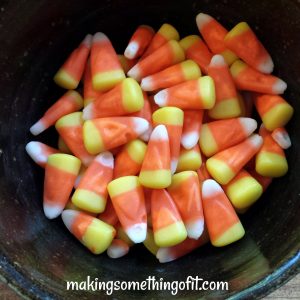 At the tender age of 12, our oldest son has declared he's too old to go trick-or-treating anymore. I'm not overly disappointed, since it will greatly reduce the amount of candy I can consume after our children go to sleep. Plus, at almost 5'8″ few people believe he's just in middle school. But I had to laugh when he shrewdly proposed, "Since I won't be collecting candy this year, how 'bout you buy me my own bag of candy corn?"
Since bringing home those tri-colored treats, I've had candy corn-themed projects on the brain. The scary/ugly decor some folks use at Halloween time has never appealed to me, but the traditional colors of All Hallows Eve are some of my favorites. I think I was also hoping that if I kept my hands busy they wouldn't have time to get into the candy dish (apparently forgetting my enormous talent for multitasking).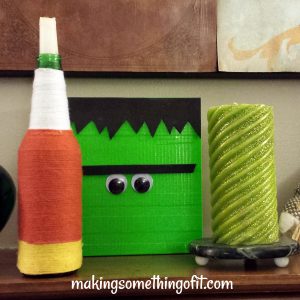 First up: an adorably simple yarn-covered bottle. This is nothing more than a glass bottle, out of our recycling bin, a glue stick (slathered on the glass, helping the yarn to stay in place), and yellow, orange and white yarn (or twine or ribbon or cord). The best part about this project: it took maybe 45 minutes, start to finish. And with so little time and money invested in it, I didn't make it to last forever. This is something I'd enjoy doing again next year, if the mood strikes.
Oh, and I added a broken stub of a candle to the top of the bottle, with plans to put this on our porch and light it on Halloween night.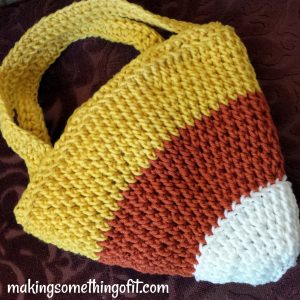 Next, I tried my hand at crocheting a candy corn shaped treat bag. I found the pattern via Pinterest and cranked this out in an evening. Sadly, my boys have no use for this and, let's be honest, a 10″ x 10″ treat bag made of yarn won't hold much loot, so it's mostly decorative – but dang, it's cute!
Up next: it's time to finalize plans for any Christmas gifts I'm making this year. This might be the year I go 100% hand-made, so stay tuned!