You see things; and you say, "Why?" But I dream things that never were and I say, "Why not?"  – George Bernard Shaw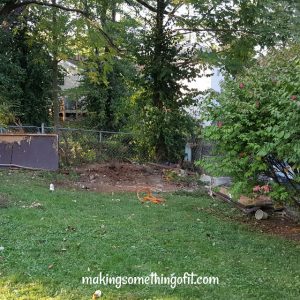 Behind every George Bernard Shaw there is someone with a tape measure and tools, who either explains "why not" or makes the "why not" possible. Last weekend, my husband got to do both of those things – explaining to me why my plan to put my little red barn alongside our house wasn't going to work and beginning the arduous task of prepping the only place we really can/should build this thing, in our back yard.
As usual, all this began because of a good problem (yes, there really are such things). After having this project funded way more quickly than I ever dreamed (six weeks, start to finish), I found a vendor who is as excited as I am to make this project happen and who proposed we start building next week. Even better, they are determined to give me the biggest barn they can, which, it turns out, is bigger than the space I'd planned on using.
My slow-to-speak husband walked our property with me, multiple times, listening to countless choruses of "why not?" before he convinced me that our only option was to build in the far corner of our back yard – where an old, dilapidated shed already stood. This sad sack structure housed our lawn mower, two coolers and a variety of outdoor crap we preferred to hide away rather than deal with. In truth, all these items did more to hold the shed up than the shed ever did to protect them from the elements.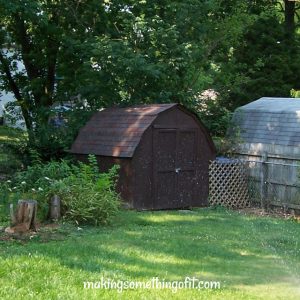 I'm convinced, much like our quirky little house, this shed was built by an apprentice, who likely went on to become an accountant (or anything else that has nothing to do with building something meant to withstand a strong breeze). This picture of our shed was taken in its heyday, when we first moved in (14 years ago). Note the lovely crawl space underneath the front doors, a spot all sorts of flora and fauna called home. Apparently, the aforementioned apprentice laid a piece of plywood over a large, lumpy, partially dug-out piece of ground – you know, because that's easier than making the ground even, before laying the foundation of a structure you hope will last.
My husband attached a rope to the top of the shed; then he and our two boys huffed and they puffed and they pulled that thing down. Our neighbors are probably saying, "Well, their little barn has finally broken down." To the untrained eye, this is an ending.
But George Bernard Shaw and I see this tearing down as a beginning – breaking ground on a project that seems to have a life of its own now. No more explaining why I need or want this. Now when I talk about my dream and blog about my barn, I will simply say, "Why not?!"