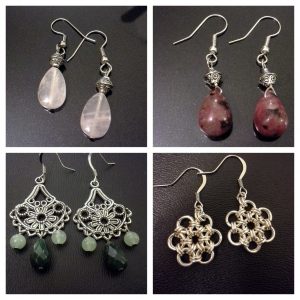 Congratulations to L. Phelan of Lathrup Village, Michigan, January's winner of the new monthly giveaway from Making Something of It! Her prize is a pair of earrings (her choice) from my Maker's Market.
(I'm waiting to hear which pair she's chosen, then I'm hopeful we can convince her to share a picture of her wearing them!)
February is a short month, so I'll be announcing another winner before you know it. In the meantime, hHere's a reminder of all the ways you can enter:
Subscribe to my blog (the option is in the upper right-hand corner of every page)
Follow me on Facebook, Twitter, or Pinterest.
NEW: Share my blog posts on Facebook or Twitter (note: you're welcome to share my posts all day long, but you can only earn one entry per day – still, that's 28 possible entries!)
Thanks to all who entered this month. Your company on this journey is a gift I'm thankful for every day!