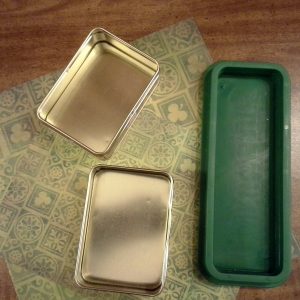 You know the pictures that you're told, if you look at them closely, you'll see more than one image? At first glance it looks like a tree … then, suddenly you see the outline of an old woman (just an example – no old woman was harmed in the making of that illustration).
Since I began challenging myself to use what I have, rather than buying what I want, I've started seeing typical household items differently. I shared a little about my recent Mod Podge kick – trying to make cardboard look just a little classier. Now, random box lids and tins without lids – items I used to toss or recycle – are getting a second life.
Last week, in an attempt to eke out just a little more play space for our boys, I did some intensive organizing in their bedroom. When I was through, I had an interesting collection of lids and boxes (none of which went together). Recognize the long, green rectangle, pictured above? That's the lid from a box of Lincoln Logs. But not anymore. That, along with the shiny, topless, twin tins, are now organizing some of my scrapbooking supplies.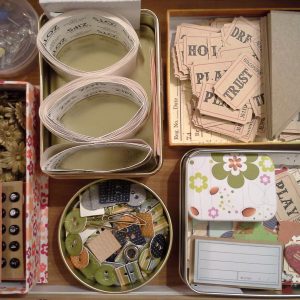 While I've always enjoyed finding a place for everything, this approach to organizing was inspired by Katy Wolk-Stanley, writer of the blog The Non-Consumer Advocate. Almost all of her writing sets the creative side of my brain in motion, but this post, in particular, helped me see the clutter under my boys' beds as treasures (rather than what I usually call it).

I've decided I like seeing the world through recycled/upcycled/mod-podged glasses, mostly because I continue to hope that the world sees more than just one use for me.