Below are fliers for what, where, and when I'm teaching others how to make something of it.
Almost anything I teach can be adapted to suit a different group, location or amount of time. For example, the summer camps I'm teaching for "young upcyclers" (grades 4 through 8) could become a weekend retreat for adults, a 4-week class for you and your friends, or a birthday party for anyone who has outgrown an afternoon of pizza and musical chairs. So, if you're interested in something more or different than what's here, use this contact form and let's talk!
Click on any image for a larger version, which is also a downloadable pdf.
Current classes: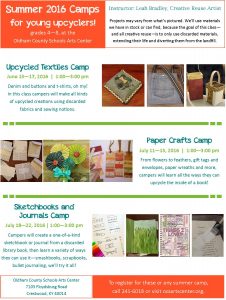 Past classes: